Golfers are a peculiar bunch. I mean — really think about the requirements some of us demand. What's the yardage: 110 or 109? It doesn't really matter, you're gonna snipe the back bunker anyways.
Where's the wind? Is it helping? Is it hurting? Is it quartering? (Anybody know what the hell this means? I heard a caddie say it once). Where's the line? A cup and a half or two cups on the right?
Can we just pause for a second and revel in the notion that most of us high handicappers are grinding it out over spin rate once a month at the PGA Superstore. Spin rate! Personally, after a lot of experimentation and hands-on research, I've found that my spin rate is at its highest when I top my three wood 15 feet. Must need a different shaft to fit my swing speed.
I mean, I guess it all makes sense. We play a game where an inch separates triumphant success from abject failure. And if we agree golf is a game of inches, then certainly it makes sense that this peculiarity inspires our clothing choices. If an inseam gives me that extra inch? I'm all for it.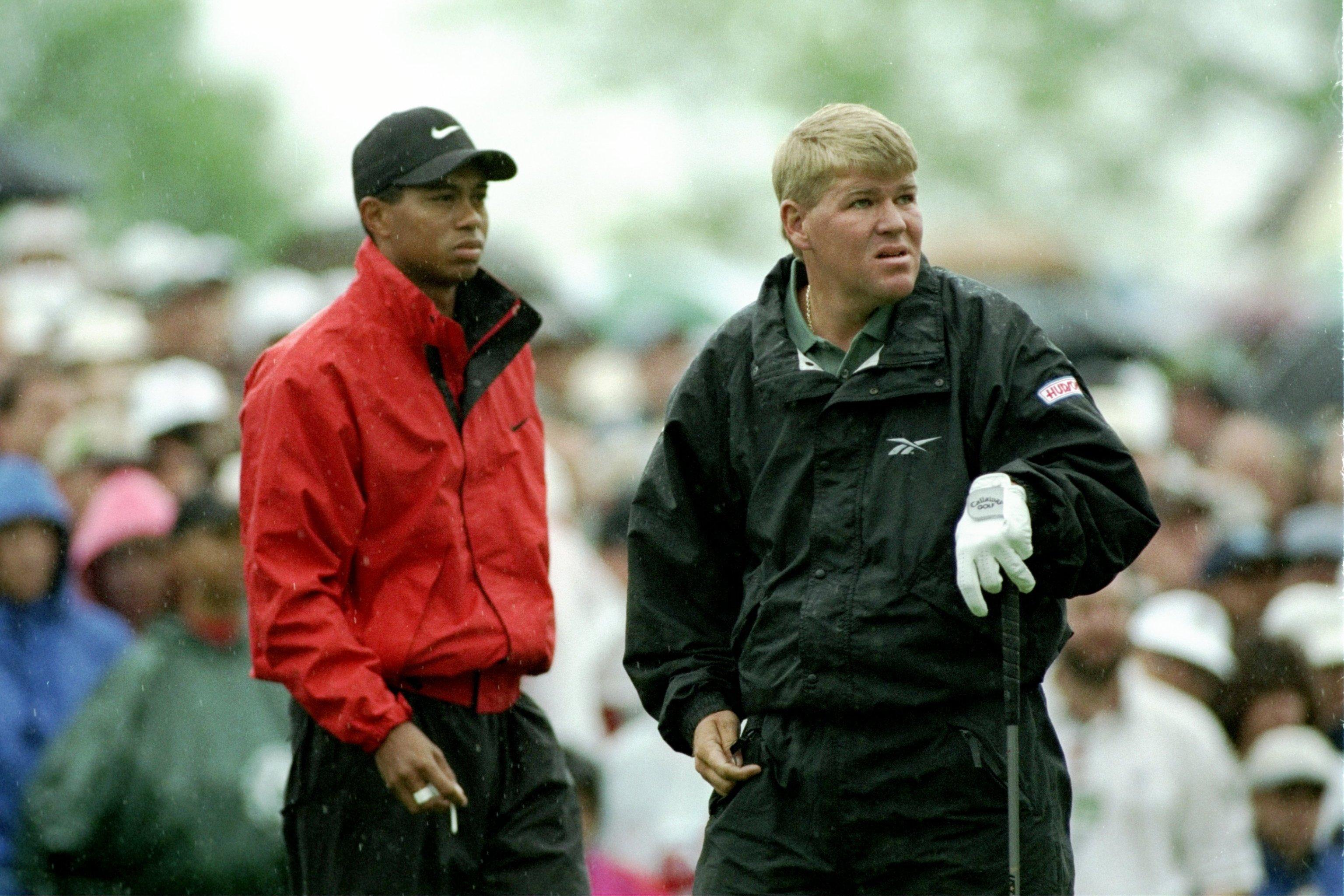 But there's one particular article of clothing that has always flummoxed us. It almost exists as a riddle: I'm not quite a polo, I'm not quite a raincoat, you can wear me when it's warm and cold: What am I? A wind shirt of course! Does anyone else have one of these sartorial anomalies dwelling in the bottom of their bag? Just crammed in there like Harry Potter under Aunt Petunia's stairs? It's a rain jacket…a wind jacket…a rain shirt…a wind shirt…I mean what's the technical name for it? Can we just mash up any proprietary blend of rain + wind + shirt + jacket? Whatever it is, it looks like The Bishop would rock one when the heavy stuff isn't coming down. It's the article of clothing that immediately pops into your mind when I say "David Duval."
Perhaps even more synonymous with the WindShirtRainJacketBreaker™ is Payne Stewart: patron saint of golf fashion. This is the piece that Payne Stewart rocked in a timeless sort of way. And props to Payne for pulling it off. But the rest of us just look like we're wearing a 50 gallon Hefty bag. Isn't this what wrestlers wear when they want to shed a few pounds before weigh in?
The material is somewhere between trash bag and tablecloth. The sleeves are always somewhere between two-thirds and three-quarters, and the torso is almost a crop top. Was everyone in the 90s just shaped like that? The whole garment looks like it belongs to your uncle. And the worst part: You can't swing in it to save your life.
Only golfers would require an article of clothing so specific yet so…imperfect. Yes, it's peculiar. Yes, it makes us feel like David Duval, or Payne Stewart, if only for a blip. Because, admittedly, it does have its uses for the game we play when the temperature's somewhere between hot and frigid, and the wind's gusting at a 25 MPH clip. It just needs a little updating, don't you think?
Erik Most
Erik is a writer and teacher from Fort Lauderdale, FL. When he's not trying to figure out ways to golf for free, he's usually hanging out with his wife and Rhodesian Ridgeback, Koa. You can find more of his work at punchbowlgolf.co