In early March I joined Erik and Evan of the RGC squad for a round at Streamsong Black — one of the most astonishing new destination courses in Florida. I teed off alongside RGC COO Evan Roosevelt, and had the chance to get to know him on a personal level between swings. Somewhere along the back nine, as we walked to find our drives, an all-too-familiar sequence unfolded. First: a FaceTime ring. Second, an enormous smile spread across Evan's face with a swipe of the screen. Third, as his son's face came into view, an exuberant "Heyyy, buddy!!"

It was particularly poignant because I'd personally done this countless times as well — Evan and I each had sons about a week apart back in November: Bennett, and August. And now, looking back on our Streamsong round as our very first Father's Day approaches, I wanted to catch up with Evan to talk about this new relationship between fatherhood and golf.
---
A Q&A Between New Dads:
What's the biggest overall change since becoming a father?
There are the obvious things that I expected: The day-to-day changes. My routine changes. I sleep less. But maybe the biggest change is the overall philosophical perspective on how I view everything in life. I'm thinking about Bennett now in almost all of my decisions. It's like all the sudden I have a pair of glasses that I wasn't wearing before, and everything is viewed through that lens. Fatherhood gives me a greater sense of purpose and direction. I really think what it boils down to is legacy, and I want to create a legacy for my son. 
How have you worked golf into your new dad duties? For example, if you want to golf on a Saturday, do you have to start planning on Monday?!
I think it just comes down to awareness. I quickly realized that my wife has more than a full time job taking care of Bennett. It's essentially two jobs counting the night shift! So before I consider golfing on Saturday, I need to ask myself if I am creating space for her to have a weekend. (Author's Note: the writer of this article hopes his wife doesn't read Evan's incredibly selfless responses.) (Editor's Note: I'm learning a lot about the writer of this article.)
Are you planning on getting Bennett into golf? How does that process look?
Absolutely. But I don't want it to be obsessive. I read an article in the New York Times recently that mentioned how successful athletes always played multiple sports growing up as kids. So I don't want it to be hyper-focused. At the end of the day, I want golf to be full of joy for Bennett. Kids want to do what their parents love right? If my son sees joy in me as I play golf, I think that will translate. And I do want to emphasize what we emphasize at RGC: your enjoyment of the day should not depend on what you write down on the scorecard. It doesn't matter what the results are, just love the process! 
What is it about golf that is unique to parent/child relationships?
I think that you can play it for so much of your life. Other sports aren't necessarily like that. Golf enables a lifetime of relationships around the sport you love. 
Are there any golf oriented traditions you look forward to?
You have to immediately think about an annual trip right? Travel and golf are inextricably linked. Most amazing places have amazing golf nearby. That's something I'm definitely looking forward to. I was also recently listening to an interview with Will Zalatoris. He said every Saturday his dad would play his regular early morning round with his buddies. After his Dad finished, Will's mom would drop him off at the course for a 4-hole loop with his Dad. I think that's a pretty awesome tradition. I looked at my wife and said, "We're doing that!"
Are there any aspects to golf that help you in fatherhood, or vice versa? For example: does changing a diaper help any part of your game?!
The first things that come to mind are precision and speed. Changing a diaper requires both. Same with golf. If you try too hard and you're a little too abrupt things can go south fast in golf and in parenting. Patience comes to mind as well. Every day is a new day just like every shot is a new shot. If you're hitting bad shots on the course and you keep getting frustrated, you're not going to do better! When he's frustrated, that's when you need to be the most patient. Golf and parenting are equally hard. Take a breath and calm down. Remind yourself of the joys in the trying moments. It's all about perspective! 
Are there any examples of father/son relationships on tour that you want to embody one day?
I think Tiger hugging Charlie after the Masters just hits different. I understand the emotion exploding through in that moment a lot more than I did when it happened. Maybe JT winning the Father/Son tournament with his dad too. You could just see the pride in his Dad's eyes. Golf is amazing because you can have your closest family very close during your most successful moments. How many children have we seen running on to the 18th green to hug dad? That's pretty awesome.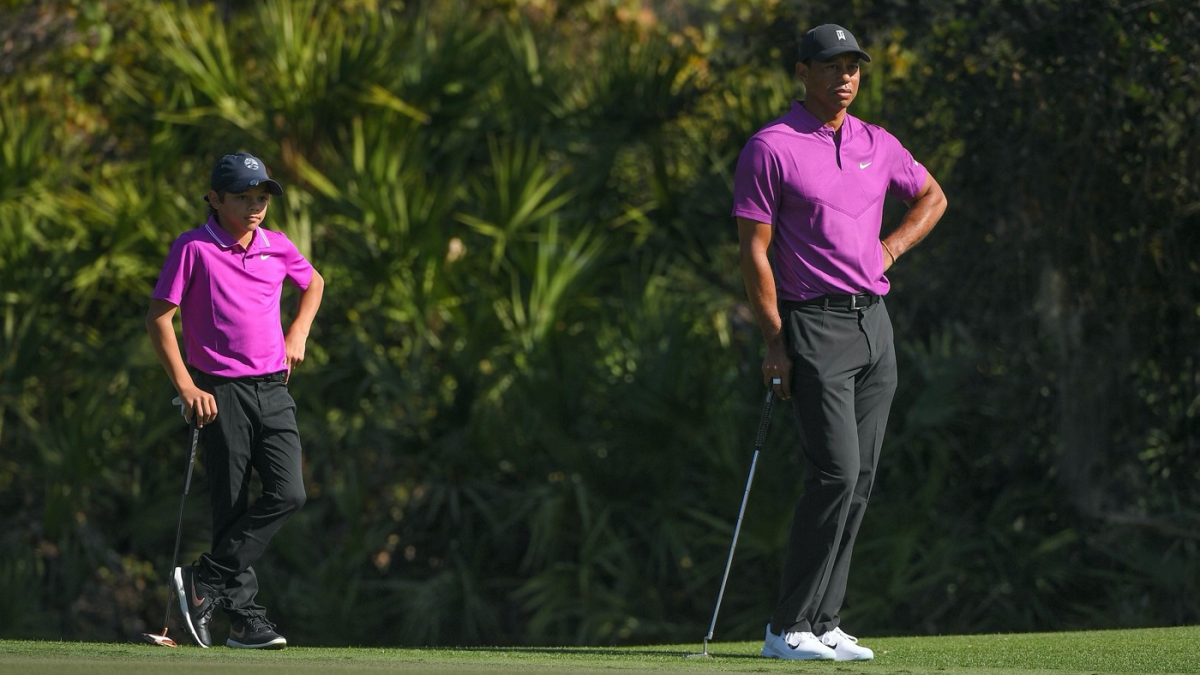 Bennett has just gone down for a nap. You have one hour door-to-door to spend at the golf course. How are you spending that time? Range? Chipping and putting? 4-hole loop? 
Honestly, my first instinct would be hit some balls into the net in my backyard! I think I'd rather stay close to home in that time period. If I did go to a course, I'd probably spend an hour hitting funky weird shots. No putting drills. Just hang out and vibe out. 
What could you do faster: Play a hole of golf or successfully give Bennett a bath, change Bennett's diaper, and put him in his pajamas? 
Bennett loves the bath. That usually takes some time. But I mean, I'm not a very good golfer, so you never know! It would probably be close. If I had to guess, bath and jammies. 
What is the parenting equivalent of 3-putting? Or maybe, what's the equivalent of a double bogey?
Oh, for sure the "phantom successful bedtime". You go through the whole routine, you get him super sleepy and everything is looking great. You put him to bed, he looks like he's asleep. You walk out of his room, take a deep breath and collapse on the couch. You turn on the monitor and BAM he's wide awake. Rough. I'd also say maybe the double diaper change — when you're putting on the clean diaper and he decides it's going to suddenly be a dirty diaper.
Erik Most
Erik is a writer and teacher from Fort Lauderdale, FL. When he's not trying to figure out ways to golf for free, he's usually hanging out with his wife and Rhodesian Ridgeback, Koa. You can find more of his work at punchbowlgolf.co