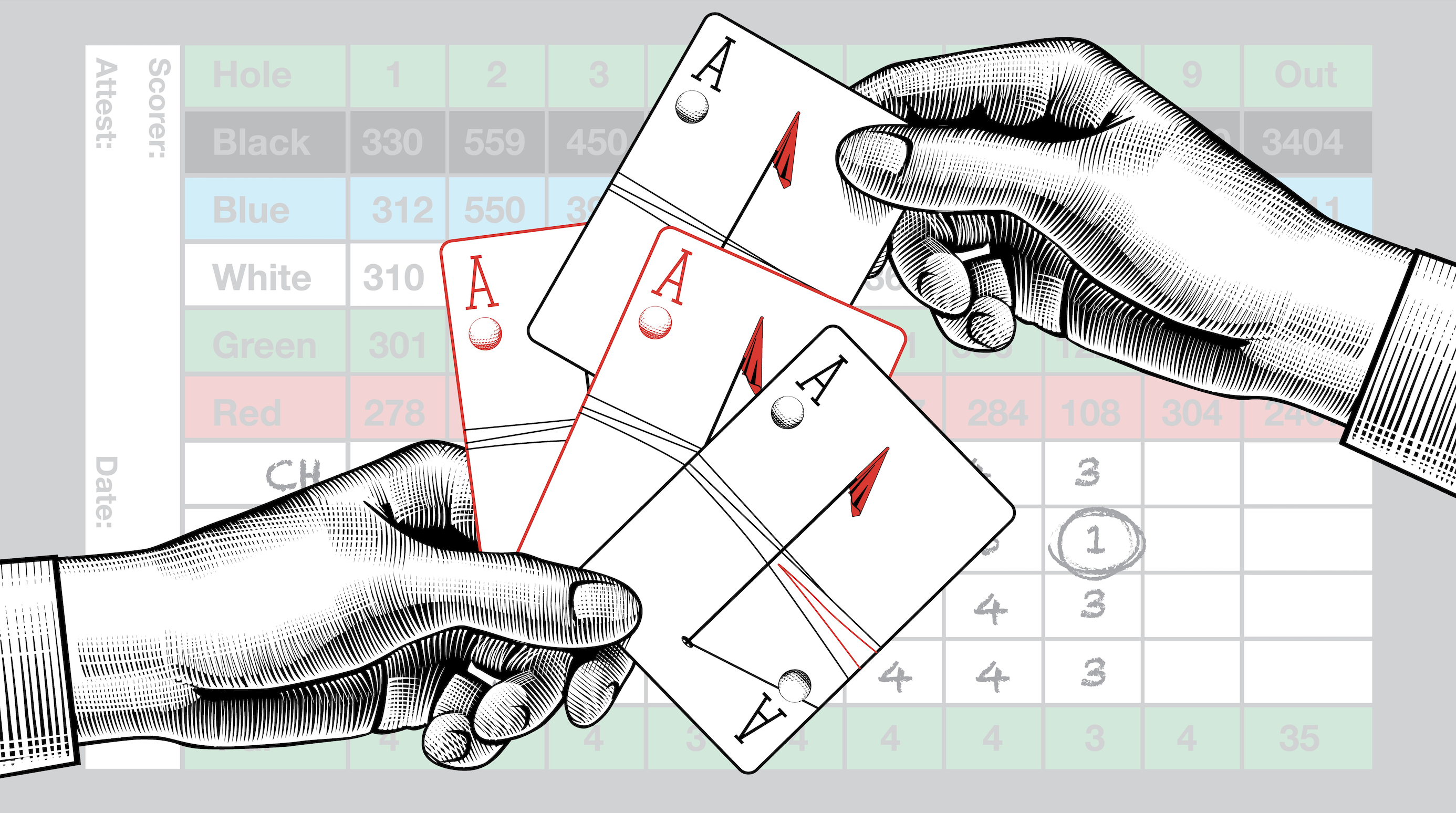 What's In An Ace? In Search of the Definition of a Hole-In-One
Have you ever had a hole-in-one? Are you sure?
Last week we shared a video from RGC producer Keffer Rhodes, who was out playing a little golf on New Year's Eve when something magical happened. He stepped up to the par-3 third hole at the Joe Balander course in Austin, TX. He pulled out his pitching wedge, eyed a 110-yard shot, and took an easy swing.
Smooth ball flight, tracking toward the hole, one bounce — and in. Or at least that's what it looked like from afar. He rushed up to the hole to double-check, and sure enough, his ball had dropped in.
Less than seven months after picking up the game of golf for the first time, Keffer did what many will go a lifetime without checking off their bucket list: he hit a hole-in-one.
Does this grainy screenshot look like the face of a man who *didn't* just get a hole in one?
A quick Google search yields a simple definition of the hole-in-one: "a shot that enters the hole from the tee with no intervening shots."
Keffer's story seemed to fit the bill. He had played a par-3. He'd hit his tee shot, his only shot, into the hole. And above all, he's a man of his word. Gotta be an ace, right? 
Immediately debate swirled among the RGC team — stirred regrettably, dear reader, by yours truly. I instantly laid out any contradicting facts I could, never stopping to consider that jealousy doesn't look good on someone who's gone almost three decades without a hole-in-one.
The Joe Balander course Keffer was playing is a 4-hole "short course" with only par-3s — it isn't a full 18-hole course playing at the typical par of 72. And there was nary a witness in sight.
With thousands of witnesses close at hand, there was no doubt when Tiger sunk this Arizona ace in 1997.
So to figure out the people's definition of a hole-in-one once in for all, we figured we'd share Keffer's experience with the world. We had to settle this in the court of public opinion. And, boy, did the RGC Community have some takes. Here we've compiled some of the most compelling on either side of the ace.
An ace is different than a hole in one.
Ace: Complete a golf hole in 1 stroke.
Hole-in-one: Complete a golf hole in 1 stroke in a submittable round of golf on a registered course under the rules of a governing body like the USGA
Jimmy B.
Fort Worth, TX
It doesn't have to be a full round of golf, even if you only play one hole and bump it in the hole — that's a hole-in-one in my eyes. But if you hole it with your second ball, it's not a "hole-in-one."
Iain R.
RGC Scotland
In 1999, Fred Couples dunked one in the water and then dunked one in the hole at TPC Sawgrass. It counted as a 3 on his scorecard, and Couples made par. So it wasn't technically a hole-in-one — but was it an ace?
After heavy thought and a few changes to my own opinion, I've concluded that a "hole-in-one" on a par-3 course should not be considered an "Ace," although when thought about quite literally, it should be considered a "hole-in-one." But to have the title of "Ace," I believe it must be on a regulation 18 hole golf course.
Caden B.
Midland, TX
Why would a par-3 course not count? Because you have more chances? At the end of the day, if you want more chances, play more golf — period. If you play par-3 courses everyday to give yourself higher odds , more power to you. That's dedication and you deserve any aces you make.
Greg M.
Vallejo, CA
Par-3 course or full-size course, the odds are against you no matter what. So to try and discredit an ace simply because you have more chances or they are shorter holes simply makes no sense to me. I myself am a part of the "no ace" club, but hopefully soon!
Mike
Phoenix, AZ
On his umpteenth try during an episode of Adventures in Golf in Malibu, EAL made an ace . . . right?
At some point you have to draw a line in the sand and be honest with yourself. Would you brag to your friends that you got an ace playing with multiple balls and you got it in the hole from 60 yards? 80 yards? 100?
Would I be stoked that it went in the hole? Absolutely! But should my 75-yard pitch off a mat be equal to 170 yard 7-iron on a full 18-hole course? No.
Should it be celebrated? Hell yeah . . . but with an asterisk.
Shaun C.
RGC Seattle
I believe if you tee off from an actual teeing ground, onto a green space, and it goes in on a single swing — welcome to the Ace Club. Being that golf is a gentleman's game, it's on you if you're lying about it [with no witnesses]. People should be excited for any golfer, especially a new golfer, to accomplish something so many of us aim to do ourselves.
Nathan J.
Sacramento, CA
Was Jon Rahm's skip into the hole before the 2020 Masters a hole-in-one — but not an ace?
On my third ever round I went to a local course with a friend. He messed up and booked the short 9 hole course and not the full 18. A little disappointed but with not much else to do in COVID times we decided to play anyway and loop it twice. On the 8th hole, 131 yards I hit a 8 iron and caught it thin. It fizzed off towards the green, took a huge hit off a mound, bounced high up in the air, landed on the green, and then rolled out — hitting the pin and dropping in. Probably one of the ugliest aces you'll ever see. The most improbable, unlikely hole-in-one ever.
For some reason I do kind of have an asterisk next to it in my own mind. I'm not sure if because it was as ugly an ace as you can imagine, because it was a short 9-hole course or because I was so new to the game it felt like an impossibility. But what it did do was cement the love of the game in my mind.
When I tell the story, I'm honest and give the caveats and let others decide their opinion on it, but I don't think I care myself. I hit a ball from a tee into the hole in one shot. There was a witness, we played the course twice for 18 total holes, we kept score, and it was only my third time ever on a golf course. I may never hit another one again. So I'm taking it.
Sam S.
RGC London
Pressed for comment, RGC founder Erik Anders Lang shared his thoughts:
"A hole-in-one is an ace, but an ace is not necessarily a hole-in-one. Kind of like how a square is a rectangle, but a rectangle is not a square. This hurts my brain."
Erik Anders Lang
As for Keffer, he's taken a couple weeks to reflect on that fortuitous tee shot.
"After I saw the ball bounce and disappear, part of me was 100% sure it went in. But the other half of me was very much in disbelief that I could get so lucky so randomly. As I walked up to it, my heart rate went crazy as I tried to keep my hopes from getting too high.
And, yes, I read every single comment on that post. Here's the thing: when anyone asks me? I'll say I got a hole-in-one, and I'll go into as much explanation as the situation demands. But in my heart of hearts? My hole-in-one resides in Asterisk City. It just fires me up more because I won't be satisfied until I get another one on a course with at least nine holes."
Let us know your take on Keffer's hole-in-one, and make sure Ace Cam is live next time you're out there — no matter what kind of course you play — because these are the moments we want to remember.