Article: Golf Is An Adventure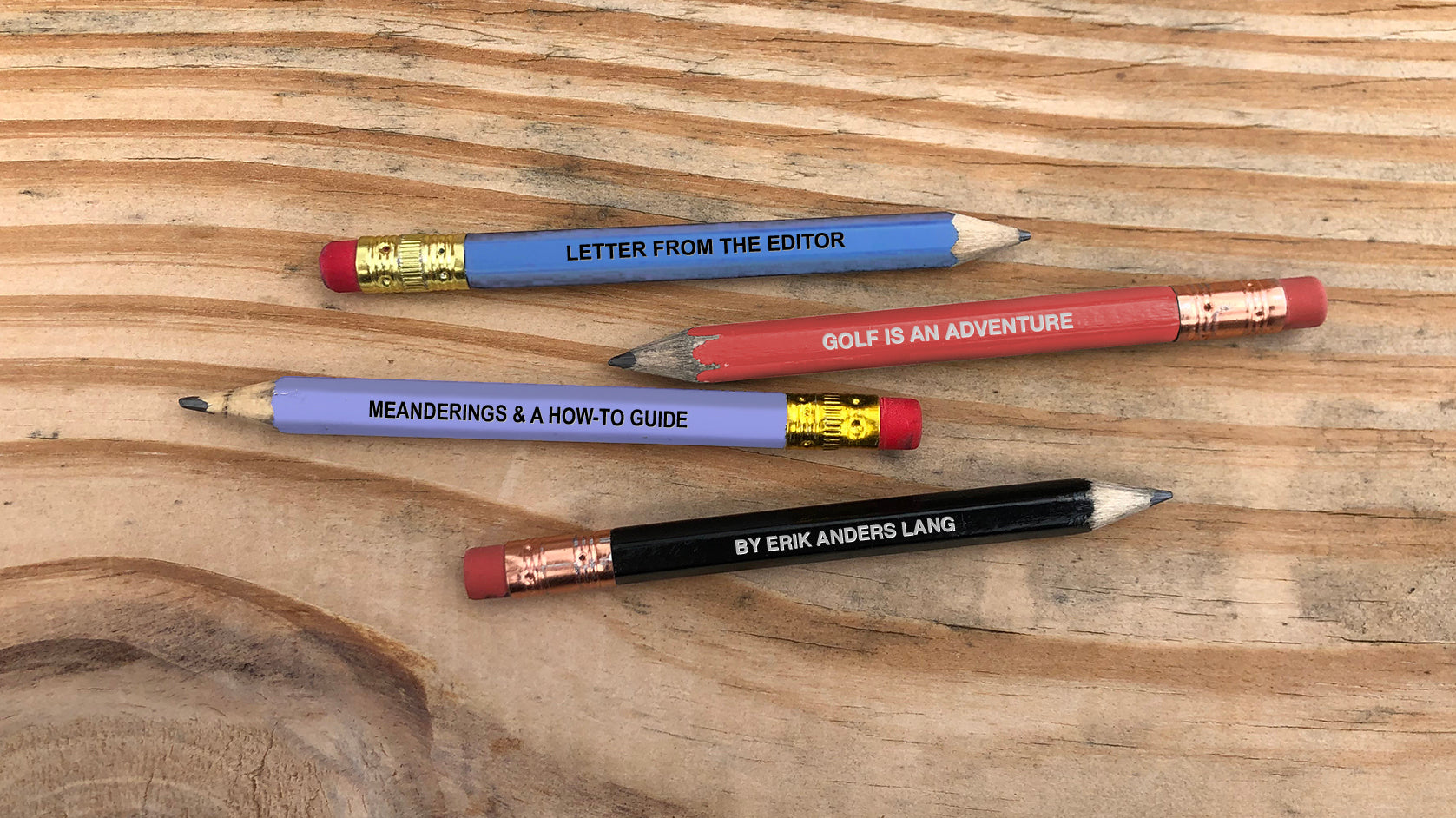 I have not been playing golf for that many years. I started just over ten years ago. Ten years is my measurement of golf — 25% of my life to date. Maybe I can get that up to 50% or 60% by the time I am done.
Reminds me of that quote: "It's not the years in your life that count, but the life in your years." So what if golf was not measured in years? What if instead of asking someone, "How long have you been playing?", we asked them, "How many people have you played with?" Or, "What do you really need to experience before you go?" 
"How many people have you gotten into the game?"
"How many short par fours have you gone for?"
"Tiger was on an adventure behind the 16th green at Augusta. Jiménez was on an adventure behind the Road Hole. Watson was on an adventure in the rough at Pebble's 17th."
What if golf IQ was a measurement of experience, of risk, of pleasure, of service?
Notice — not how many greens you hit, but how many attempts you made. You see, this experience of golf has the measurements all wrong. I come to you after a round and tell you that I shot 78 from the blacks. You either don't care or you compare. And somehow the game is ONLY measured in strokes. Now, there's a question you can ask your new playing partner: how old were you when you realized that strokes was not the best way to measure the game? Where were you when you realized that golf is just a medium? Who were you with when you realized what golf is a medium for? 
In truth, golf at its simplest form is just that: just all of those questions. The simplest question it asks us is, "Where will my ball fly today? Where will my ball take me today?" And in the process of following that little ball lies (drumroll please) the adventure.
All adventure, in my experience, starts with a question. What's over here? I wonder what that is like? What would happen if we did this? Adventure is also — by definition —unplanned. So is golf, as soon as the driver strikes your ball on the first tee. It's an unplanned trip into territories unknown. When the ball lands in a spot you've not been to yet, you — if you look at from the right angle — are on a little adventure.
Tiger was on an adventure behind the 16th green at Augusta. Jiménez was on an adventure behind the Road Hole. Watson was on an adventure in the rough at Pebble's 17th.
Perhaps your adventures are of a more social nature. You meet the characters of your story on the first tee, and by the 18th the novel is complete. Or maybe that's just Chapter One. I've heard stories of lovers meeting for the first time, grinding away on a desolate driving range in a small town, or getting engaged at a small tournament in Georgia. 
Stories are like that, too. They live larger in the telling. Each time Grandpa Jack tells the story of his ace, the hole gets longer and the wind gets stronger. And that is why we do it. To carry the story of adventure with us. Wherever we go, we are just begging for an ear to hear about it. Those ears are at the 19th hole in every country that has a flag, and — yes, you got it — that's part of the adventure too. 
That's one of the best parts of a good adventure. That it lives long past its expiration date. We extract so much from these stories of our lives that their worth far outweighs their cost. In fact, I would venture to say that the value of adventure is worth more than the costs of just living. Adventure was the only purpose, and the wonderful part there is that it demands to be done. That's why you see so many people with a simple solution at Bethpage Black: "I'll sleep in my car."
And funny enough, the simple concept of 'adventure' turns any situation into a wild tale, from what might otherwise have just been a terrible nightmare or worse — forgettable. One of my most satisfying holes of golf was an 11 I made at Western Gailes. On about the sixth stroke, with the hole still very far away, I grasped that concept of adventure in my eyes and hands and my vision shifted from negative to positive. I was immediately six years old. That's what adventure does. It's your fountain of youth. And so by that definition, it's just a state of mind. Or the lack of mind. Surely, ration and logic are clean, rarely used tools in the adventurer's kit. 
On you go.
DIRECTIONS FOR ADVENTURE:
In the effort of simplicity, here are step by step instructions on how to create an adventure. 
Open your mind to what is positive and possible.

Remember that the challenge alone is why that club found your fingers.

The worse the struggle, the greater the story.

Take notes along the way to use as a basis for your embellishments.

Only keep score of the things you actually care about.

Ask only and frequently the questions that are really on your mind.
6b. Listen to the answers, if you didn't hear them ask them to repeat.
Remember each time you tee it up, this could easily be your last round. 

Scream or sing on your final tee shot.

Give silent thanks after your final shot.

Accept all invitations no matter how absurd.

Ask your partners early on what their nicknames are.

Find a new way to measure your own golf game and tell people about it.

Let go of the club (see: outcome).

When fear strikes, hit it hard with curiosity. That always wins.

Missed opportunities are the most expensive things in life.

Missed putts — especially the short ones — call for Rule 17b.

If you bring a bad hole with you, just leave your club in the bag. Consult rule 17b.
   17b. One must laugh at the bad shots.
Read a quote on the first tee in a loud voice.

Write a haiku on your scorecard and leave it behind with your phone number.

Always, always, always send it.
– E